Something Old, Something New – OWASP API Security Top 10 in 2023
August 1, 2023 | 9am PDT | 5pm BST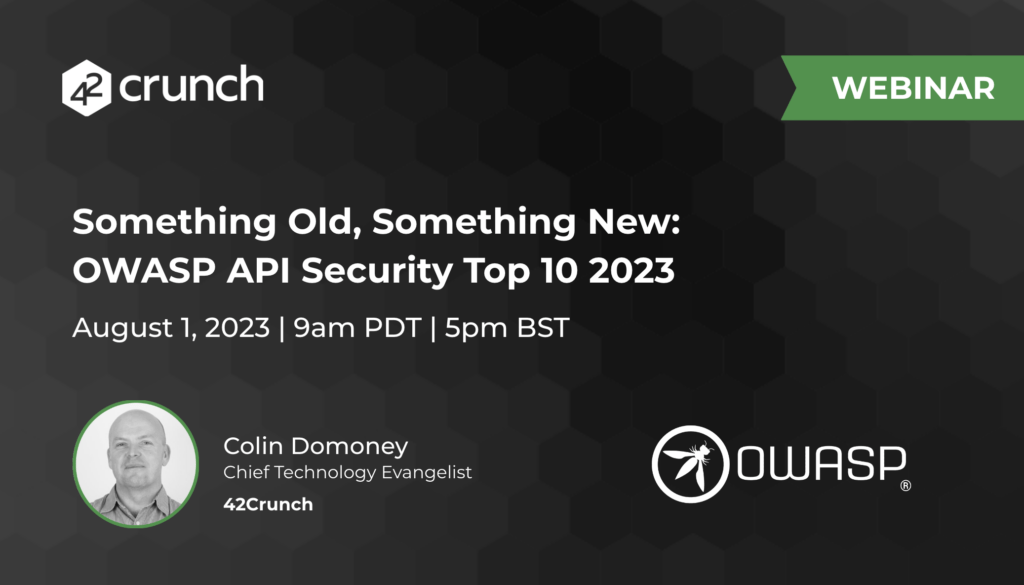 The OWASP API Security project has recently updated its Top 10 list of vulnerabilities that are commonly found in APIs. This list includes both well-known issues and new ones that are currently affecting APIs in the real world. It is crucial for those involved in the API industry to stay informed about these top threats and the OWASP Top 10 list is an excellent resource for doing so. By staying up-to-date with the latest security challenges, API professionals can better protect their systems and ensure the safety of their users' data.
Join Colin Domoney (Chief Technology Evangelist) from 42Crunch as he takes a closer look at the 2023 Top 10, including:
an overview of his research into API vulnerabilities of the last 12 months.
the items dropping off the list and whether they are still a concern.
the items remaining unchanged, and why they are more of a concern than ever.
the three new items and why they warrant attention in 2023.
we will also look at how 42Crunch can help you address these new items.
Join us to get the inside track on the new Top 10 concerns for API developers.
Colin Domoney
Chief Technology Evangelist