Today I'm proud to announce that 42Crunch is the first API Security platform vendor to join the Microsoft Intelligent Security Association. This accreditation has been achieved as a result of our integration with Microsoft Azure Sentinel, the cloud-native security information and event management (SIEM) platform. APIs are a key target for malicious actors, and the integration of the 42Crunch platform with Azure Sentinel will significantly reduce the risk of API-related attacks. By combining Microsoft Sentinel's intelligent analytics with 42Crunch's API design and run-time security controls enterprises gain a holistic view of their API security program.
API Threat Intelligence
From day one our mission at 42Crunch has been to help organizations build secure APIs and protect their businesses from cyber attacks. This integration with Azure Sentinel means security ops teams can now leverage the SIEM platform to gain visibility into their API infrastructure, identify vulnerabilities, and mitigate risks.
42Crunch sends logs to Azure Sentinel for analysis of real time attack data. Sentinel provides actionable insights and visualizations that highlight anomalous activity and attack patterns including account takeovers and malicious bots. Key examples include:
Monitor API requests for suspicious activities
Generate alerts for unauthorized access
Detect malicious API requests
Monitor API performance
API Security First 
An effective API security strategy starts early in the software development lifecycle. 42Crunch and Microsoft are collaborating on several levels to enable a DevSecOps approach that helps developers build more secure and resilient APIs without compromising on productivity or innovation. Our out-of the-box Integrations with many of Microsoft's key enterprise platforms enable a seamless DevSecOps experience for API security throughout the API lifecycle.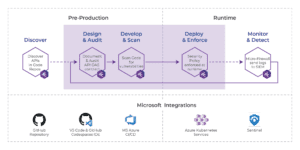 Webinar
Register to attend this webinar demonstrating how our Sentinel integration works in practice.
Azure Marketplace
Microsoft Azure customers can now leverage the power of the 42Crunch platform directly from the Azure marketplace.